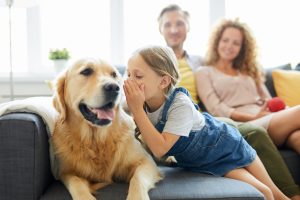 By Courtney Regan, Marketing Coordinator
Customer service has been a part of my everyday life for the past decade. Ever since I entered the work force, I've been trained and taught and counseled on how to provide "exceptional" customer service. Now, I show vet practices how they can benefit from what I've learned.
We train staff and employees as if becoming "customer centric" is some complex concept that needs to be mastered. Something that could take us years of practice to become truly proficient. In reality, customer service has one simple key to unlocking a positive customer experience: communication.
Communication is key
If you google the phrase "most common customer complaints," you'll find pages and pages of articles listing what customers feel are the biggest issues they face in their interactions with companies. Time and again these complaints circle around communication, or a lack thereof.
Not getting timely responses to questions from practice team members; broken promises; rude interactions; not fully understanding procedures or next steps; not feeling heard or understood themselves. All of this hinges on poor communication.
So how do you avoid these complaints? It's pretty simple: the practice team needs to be transparent, honest, and direct. Communicating with customers doesn't have to be a constant sales pitch full of outrageous promises and flashy phrases. Customers respond better to sincere and honest contact.
In a survey by Cohn & Wolfe, it was found that 87% of customers around the world felt that it was important for a company to "act with integrity at all times."
Be true blue
Not all complaints can be avoided. If you mess up (you will at some point, we all do, we're human) the quickest and most sure fire way to remedy the situation with your customer is to be honest about what happened. Explain the situation, explain how you are going to fix it and provide the customer with realistic time lines and expectations.
You will find more times than not, the customer will be surprised at your forthright manner and will respect and appreciate the directness. You'll still want to apologize for the situation, but apologies are empty without action. Customers will be more willing to forgive if you avoid giving them the run around or placing the blame somewhere else.
Golden Rule in action
One of the most useful techniques I've heard throughout my career is "treat your customer like a family member or friend". How would you want your grandmother to be treated if she was this patient? How would you want your father to be treated if he was the customer trying to get his dog back to good health?
It's an easy way to sympathize quickly and put yourself in a more understanding mind set. It's a cliché, but it really does work. Or how about an even closer connection: what if it was you having to bring your pet in for an unexpected procedure? How would you want the situation to be handled?
What you can't buy
Customer service has always been important in terms of practice production and overall impact on practice profitability. After all, without our clients, we wouldn't be working in the veterinary profession. But the importance of focusing on our customers is increasing every day.
In a Walker study, it was found that by the year 2020, customer experience will overtake price and product as the key brand differentiator. Let's remember to keep our clients at the forefront of our daily business practice.
This means consciously finding and implementing improvements in the ways the practice team interacts and communicates with clients. If you struggle with this critical issue contact us and we will assist you in customer service training.
"To give real service, you must add something which cannot be bought or measured with money, and that is integrity and sincerity." – Douglas Adams