Camala C. Bailey's presentations empower veterinary professionals to face – and overcome – their financial, practice management, and leadership obstacles.
It's time for veterinarians to achieve the financial rewards (and peace of mind) they deserve!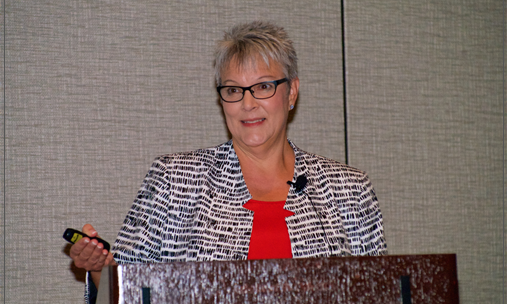 Camala C. Bailey, CPA, CVA is on a mission to help veterinary professionals attain financial fitness, grow as leaders, be successful, and prosper in their business and personal life.
Cammi has a track record of speaking to national veterinary conferences such as the American Veterinary Medical Association (AVMA). Her topics range from financial literacy to leadership, work/life balance, and emotional intelligence (EQ).
A favorite speaker in "Leadership" and "Practice Management" tracks, Cammi sparks audience participation. This is driven by her interactive style – as well as the fact that she delivers extremely useful, relevant topics specifically focused on veterinary practice owners, associates, and practice managers.
Here are Cammi's most-requested presentations. All topics can be presented as a 1- to 3-hour breakout session or workshop and customized to your group's needs.
Camala Bailey's Most Popular Topics on Financial Literacy
Financial Standards of Care: Know Your ABCs (Accounting, Budget, Cash Flow, and More)
You've heard it said: "If you don't measure it, you can't manage it." First, though, you need to understand what the numbers mean! Learn the essential financial statements your veterinary practice should use – and how to read these reports to assure practice success.
The Right (and Wrong) Way to BUY a Practice: 5 Steps to Do it Right
Buying a practice has lifetime ramifications. How do you conduct due diligence? What do the numbers mean? Should you make the purchase – or walk away? Get strategies, insight, and tips from a CPA with experience guiding veterinarians to successfully purchase a practice.
The Right (and Wrong) Way to SELL a Practice: 5 Steps to Do it Right
Many veterinarians invest in a practice with retirement plans in mind. A profitable sale can pave the way for security in your retirement years – if it's done right! Attend this session to learn how to determine the current value of your practice, increase the value, understand the sales process, and minimize tax implications.
Camala Bailey's Most Popular Topics on Leadership and Practice Management

What Kind of Communicator Are You? Shed Light on Your Communication Style with the DISC Behavioral Assessment Tool
In this interactive discussion, attendees have a "lightbulb moment" when they discover where they stand on the DISC assessment. Understanding your personal communication style enables you to communicate more effectively with every client and employee. As a result, you can deliver dazzling customer service and build an engaged, motivated team.
How Can You Reduce Stress? Learn How to Manage Workplace Stressors!
Workplaces stressors abound when you own or work in a veterinary practice.  You serve clients, manage a team, juggle expenses, and combat compassion fatigue. Gain insight into the 7 common workplace stressors and get advice to develop a healthy response to the stress in your life.
Please look for Cammi at these upcoming conferences:
Veterinary Hospital Managers Association Annual Conference in Glendale, AZ: September 26-28, 2019

VMX (Formerly North American Veterinary Conference) in Orlando, FL: January 18-22, 2020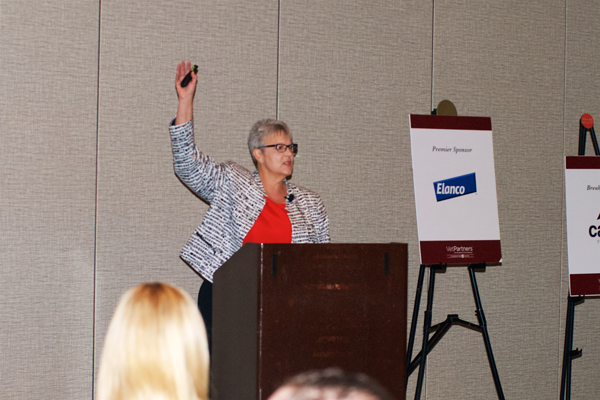 Additional Financial Presentations
---
Financial Statement Basics: Let the Numbers Tell the Story
Content: Chart of accounts and financial statement basics
Learning objectives:
Understand and develop a chart of accounts specific to your needs
Learn the essential financial statements every practice should have and how to read and use them
Determine if you should do your own bookkeeping or hire professional help
---
Cash Flow Management: Don't Let Your Cash-Flow Down the Drain
Content: Cash flow forecasting, how to use it to better manage cash
Learning objectives:
Learn how to prepare a cash flow forecast
Learn best practices to manage account receivables and payables
Learn best practices to manage debt
---
"What the Heck is KPI, and Why Should I Care?" Understanding (and Using) Data Metrics
Content: Data metrics for veterinary practices, how to choose and track Key Performance Indicators
Learning objectives:
Learn key industry benchmarks to use for comparison purposes
Learn the four types of Key Performance Indicators (KPIs)
Learn how to read KPI trends to determine next steps in your business
---
The Backward Budget: Start with Your Profit Goals When Creating a Budget
Content: Budget basics, includes a budget worksheet
Learning objectives:
Learn how benchmarks and KPIs are used and relate to budgeting
Learn how to prepare a budget based on profit
Learn how to analyze variances and determine necessary adjustments
---
"If I'd Only Known": Inventory Best Practices and Revelations
Content: How inventory relates to practice profitability, review inventory best practices
Learning objectives:
Learn various inventory benchmarks for comparison
Learn how to calculate important inventory ratios
Learn how to track inventory by class
---
Personal Finance 101: You Didn't Learn This in College
Content: Personal finance and money basics
Learning objectives:
Learn what it takes to buy a practice
Learn about saving, college funding, retirement and more
Learn about FICO scores, student debt, consumer debt, and more
---
Is Your Practice Actually Turning a Profit? Defining "Real" Profit
Content: Calculate "real" practice profit available to the practice owner
Learning objectives:
Learn how to use the NoLo Practice Worksheet (from VetPartners website)
Understand the difference between book and tax profit
Understand what adds or detracts from the ultimate value of a practice
---
The Secret to Profits: Tips and Tricks to Manage Expenses – and Much More!
Content: Brief overview of financial statements, followed by ways to lower expenses and improve return on costs, includes tips on income tax and sales tax along with other money-savings ideas
Learning objectives:
Learn how to use financial statements, budgets and benchmarks to manage expenses
Learn various ways to lower expenses
Learn miscellaneous sales tax and income tax tips
---
Additional Practice Management Presentations
---
Create a Plan & Stick with It: Don't Get Lost on Your Way to Success
Content: Steps to a simple strategic planning process
Learning objectives:
Learn a simple step-by-step strategic planning process
Learn how to assign accountability, track and follow up on the strategic plan
Learn what SMART goals are and how to establish and use them
---
Behavior & Communication: Why Employees Are Like a Box of Chocolates
Content: Human behavior and communication styles (Based on DISC Behaviors and Driving Forces)
Learning objectives:
Learn 4 universal behaviors and 12 driving forces
Learn the best way to communicate with staff and clients, based on their behaviors
Learn how to engage and motivate your team, based on driving forces
---
Be All You Can Be: Develop Your Emotional Intelligence (EQ)
Content: Emotional Intelligence (EQ) defined, along with how to increase EQ to be more effective as a leader or team member
Learning objectives:
Learn what Emotional Intelligence is
Learn how to increase Emotional Intelligence
Learn how to apply Emotional Intelligence in your business and personal life
---
Watch for the 7 Secret Killers: Managing Stress in the Workplace
Content: Top job stressors with techniques and tools for managing stress
Learning objectives:
Learn the 7 top workplace stressors
Understand the price of stress including what it's really costing your practice
Learn techniques and tools to manage stress
---
Take Control of your Time: New Time Management Tools, along with Tried-and-True Techniques
Content: Time management issues with presentation of tried and true as well as trending and new tools and techniques to take control of your time
Learning objectives:
Learn how to avoid distractions
Learn techniques and tools to help manage your time
Learn goal setting and self-discipline to help avoid procrastination
---
Forward Booking: This Simple Step Can Immediately Impact Your Bottom Line
Content: Forward booking in the veterinary profession
Learning objectives:
Learn about forward booking, including its success in other professions
Learn the many benefits of forward booking
Learn the steps to start forward booking in a veterinary practice
---
What Her Clients Are Saying
We are so happy to have Cammi's firm in our corner – they always explain accounting terms and concepts in ways that we can understand and apply to our business, and are always responsive to our concerns. It is so nice to have a competent group taking care of our accounting needs so that we can focus on helping our patients and growing our practice!
Cammi and her practice not only provide excellent accounting services, they go the extra mile to make sure all aspects of your practice are thriving. I don't know what I would do without them. It is so nice to know there are still people out there you can trust and have your practice's best interest in mind."
We feel so fortunate to be able to work with Cammi, given her many years of experience, and the large number of veterinary hospitals that she can draw her practice comparisons from. With her guidance we have been able to improve our efficiency and gross margins. Thank you for your expertise.
Cammi stepped in and helped our practice develop a budget, which was a goal we were really struggling with. She is always available to help us with questions and takes the time to carefully explain our financial statements to us so we feel comfortable with the financial health of our practice
Cammi and her group have been responsible for our business books for years. She has incredible and current knowledge of tax law and has saved our company money, both in month to month business and in our yearly tax filing. She is always available for that quick question or advice.