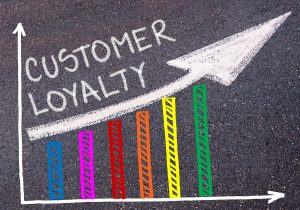 There's a battle for your financial loyalty being waged by Amazon, Walmart and Costco. Loyalty of customers like you to one of these companies translates to millions at the bottom line. That's the reason Walmart has begun offering free two-day shipping and no membership fee to steal away Amazon customers.
The big three retailers know something that can help your own vet practice boost its profits. They know that once they have secured you as a customer you are likely to stay (e.g., how often do you change banks?), and that a 5 percent increase in their customer retention will result in a 75 percent increase in profitability according to Forbes. That's because existing customers are far more likely to buy a wider variety of services and products than a new customer.
On top of that, various business schools and business publications provide another reason to focus on customer retention: it costs between 5 and 30 times more to attract a new customer than it cost to keep an existing customer happy. So, if we are a typical vet practice in our market area, for example, we're spending a lot to try and attract new customers. Since it's generally cost prohibitive for an individual vet practice to consider mass market advertising (TV, radio, billboards), most practices buy Yellow Pages, shopper publications and direct marketing. Typically practices focus on their website and word-of-mouth to drive new business. Advertising is expensive, cumbersome and results are often questionable. It's way cheaper to retain customers.
So, this all leads to the question: What plan and processes do you have in place to retain your existing customers? Where do you go to develop such a plan? We work with our clients who are interested to create a "touchpoint" map that identifies every interaction the customer has in a visit to a veterinary practice like yours. What a touchpoint map does is indicate those areas where existing customers are ignored are frustrated with staff or policy interactions. The resulting plan and staff training will promote excellent customer service, retention and referrals.
By studying your processes and talking to clients, we find areas of necessary improvement that can make the existing customer feel more satisfied with the services and products delivered by your vet practices, leading to improved customer retention and greater profit for you.
If you face competition and see your customer churn rate as too high, we highly recommend focusing more resources on customer retention to keep your practice financials healthy.